Raskolnikove (Crispin Glover) is a struggling intellectual law student at Moscow University. The time is today, and Russia is facing the toughest economical revolution of the century. The Rubel, not able to maintain its strength and power within a nation suffering from the peak of poverty and crime, subcomes to the inevitable plague of sicknesses that surround the society of modern day Moscow.
During these hard times, Raskolnikove decides to publish an article in the students' magazine in which he expresses his ideas about the ubermesch, which is based on Niches Philosophy of ...some human beings are better than others, only they have the right to exist. When crime, even murder, is justified if it's done against the worthless. Raskolnikove's ideas lead him to kill an old pawnbroker, who he considers to be scum, in order to steal her fortune. But, John Hurt, the chief of the homicide police department in Moscow, who suspects the young law student, decides to launch an investigation and a cat and mouse chase begins.
Events take a radical change when Raskolnikove's mother (Vanessa Redgrave) and her daughter (Sophie Ward) arrive in town to celebrate the marriage of Raskolnikove' sister to a rich industrialist, whom Raskolnikove despises. Raskolnikove's crime, along with the ever changing trail of events, trigger his physical and mental torment causing his struggles with life and the people around him, especially the members of his family and close friends.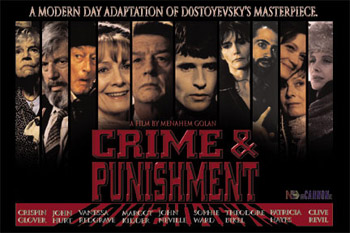 But life opens different and tougher doors, when he meets Sonia (Avital Dicker) a pretty prostitute, whom he falls in love with. His decision to give himself to the police will help him understand and separate between the road of righteousness and his tormented soul. In order to redeem himself from his criminal life he must face a court case that could mean an even rougher chapter of his life. Raskolnikove is taken to Siberia where he will learn to accept himself, and purify his tormented soul. After a short sentence he is released, and joins his awaiting lover with whom he will attempt to start life once again.
CRISPIN GLOVER as Rasknonikov
JOHN HURT as Porfiry
VANESSA REDGRAVE as Mrs. Raskolnikov
MARGOT KIDDER as Mrs. Marmeladova
JOHN NEVILLE as Marmeladov
SOPHIE WARD as Dounia
THEODORE BIKEL as Captain Koch
PATRICIA HAYES as Alyonna Ivanovna
RICHARD LYNCH as Luzhin
CLIVE REVIL as Zamytov
MATT SERVITTO as Razumikhin
AVITAL DICKER as Sonia