Evgeny Afineevsky, age 34, is the President and Co-Chairman of the Company. Five year's ago "
New Cannon, Inc
" changed the name of the company to New Generation Films, Inc. He is also a member of the board.
As a teenager, he won First Prize for Best Documentary of the largest Republics in Russia and was sent to the International Festival on the Black Sea in Russia. This was the beginning of his filmmaking career.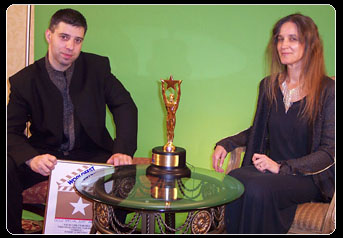 He is one of the youngest and successful impresario in Israel and abroad. He has worked and has been sponsored by many of the top line impresarios of Israel and in the USA. His personal teachers and partners have been: Mr. Jack Yakov (oldest and well known impresario in Israel, with the richest background of more than 40 years of shows, musicals and operettas, "Father" of children musical theatre in Israel, "Maestro operetta" in this country and so onů), and Mr. Menachem Golan, a well known director and producer in Hollywood, Israel and all over the world.
During the last 6 years, he has coordinated over 30 musicals in Israel, such as: "Bat" (Die Fledermaus), "Gypsy Baron", "Viennese Blood", "Night in Venice", "Silva princess of Chardas", "Mozart Konzerte" with Prague National Opera orchestra, International Festivals, children musicals and many others. During 1997 and through the beginning of 1999, he produced the great British show - "The Mousetrap" by Agatha Christie, which has run for over 50 years in London and various other countries. Also in 1999, with great success, he produced a play by Agatha Cristie entitled "Spider Web".
During his production of "Spider Web", Mr. Afineevsky took on a television production named "
Days of Love
" with various famous Israeli stars with great popularity in Israel as well as abroad. As President and CEO of "Octava Ltd." for the past 3 years, Mr. Afineevsky has rapidly achieved and been able to demonstrate his well-earned experience through his new concepts and usage of the most current technological methods of the industry. As well as his extensive background in business, financial and investment management. In 1999-2000 Mr. Afineevsky has been President of "FilmWorld International, Inc", an Entertainment Production Company and after 2 years of "New Cannon Inc", where he continued to demonstrate his knowledge of and experience in the Entertainment Industry.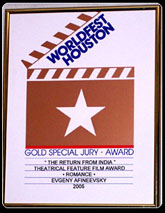 Last years he produced three feature films. "
Crime & Punishment
" staring Crispin Glover, John Hurt, Clive Revil, Margot Kidder and a host of others (MGM is distributing this film in the fall of 2002). "
Death Game
" staring Billy Drago, Joe Lara, Richard Lynch and Bo Brown. "
Return from India
" - American - Israeli coproduction, for which he received a special Israeli Grant. Staring Aki Avni, Riki Gal, Assi Dayan, Dana Parnas and Orly Perl.
He is the member of the Israeli Film and Television Academy, Academy of Television Arts & Sciences, Los Angeles Film Teachers Assosiation and a Russian Union of Cinematography.
Curently he working on the feature comedy "OY VEY! MY SON IS GAY!!" and a big animation feature "GUNGA DIN", that is a Hollywood-Bollywood first animation co-production.
In 2005 he received Gold Special Jury Award from the 38th Houston WORLDFEST for his feature film "The Return from India" and recently, in 2007 he received Platinum Jury Award from the 40th Houston WORLDFEST for his feature film "Crime & Punishment".